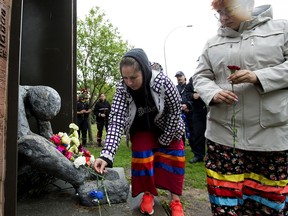 Article content
One of the conversations making the rounds of late through the conference rooms at city hall is about a recent New York Times article detailing the city of Houston's work in tackling homelessness.
Article content
If you're like me, then Texas is probably not the first jurisdiction you'd imagine having success on this file, and yet, as the article describes, the state's largest city has managed to make progress in ways that more progressive jurisdictions — like, say, California and New York — have yet to achieve.
Texans, I'm told, are nothing if not pragmatic and averse to unnecessary public spending, and some leaders in Houston have apparently figured out it ultimately costs less to try to solve homelessness than letting it fester.
Edmontonians, I think, share some of these characteristics. We, too, have been a leader in addressing homelessness, at least within Canada (even though it may not be apparent to the eye test these days).
Article content
At the same time, a recent audit and a bunch of city reports also indicate our "Housing First" efforts have a long way to go, which is where Houston's experience may prove instructive. Further success, it seems, depends upon Edmonton raising its game by getting more coordinated, creative and aggressive — perhaps even to the point of asking the province to hand over jurisdiction for housing to the city.
I'll admit that last idea comes across as a bit ludicrous. After all, why would a municipality that has regularly decried provincial downloading suddenly demand more responsibility?
"I recognize this is a very out-of-left-field option but we have tried everything else in my nine years on council," said Coun. Andrew Knack, the group's most vocal champion of the idea. "There is no point trying to operate anymore with existing framework because it doesn't seem like there is any interest at one time or another between one of the two other orders of government."
Article content
"If you can remove one of those orders of government maybe you streamline things a little bit more."
At this point, most of Knack's colleagues on council still seem to be holding onto a preference for the provincial government to live up to its responsibilities. And perhaps that still is the best scenario.
But even if the province suddenly decided to become more cooperative, there is still a case to be made that the city may be best positioned to take on all the authority anyway.
Even with limited funding and power the last few years, Edmonton has done a lot with a little. The city is on track to surpass its four-year housing goals this year, though wraparound services to accompany the latest supportive housing units remain without a provincial funding commitment.
Article content
Clearly one of the best things the city did to achieve its goals was to assign Homeward Trust some years back to better coordinate municipal efforts. This, among other factors, had homelessness on the decline.
However, as the recent city audit illuminates, an even greater level of coordination is going to be needed in the years ahead to cope with the dramatic rise in the issue we've seen since the start of the pandemic. The audit notes that despite Homeward Trust's leadership, much of the city's response to homelessness is still spread across a bunch of different departments.
As well, the audit calls on the city to improve its performance tracking, which presumably means an upgrade to city data collection and analysis.
Article content
Furthermore, though not addressed by the auditor, council and city managers now seem to be coming around to the necessity of deploying greater creativity and aggressiveness toward housing, which inflation is making much more expensive.
One intriguing idea under consideration is co-locating supportive housing units as part of a new southeast fire station. There has also been talk about pre-emptive zoning approvals for affordable housing projects — potentially using surplus school sites — and working with providers to get projects ready to roll as soon as funding becomes available.
Other discussions have focused on backing Indigenous-led housing projects, offering more tax exemptions or grants for providers, and demanding a certain percentage of non-market housing in new developments.
Article content
Not all of these ideas are perfectly formed, but they are examples of alternative thinking that deserve more exploration, especially as the city finalizes a new assessment of housing needs in Edmonton, along with a new investment strategy that could cost up to $246 million over the next four years.
Which brings me back to the example of Houston. One of the reasons the Texas city succeeded is because it hyper-coordinated its response under a single authority, using its power to push past the usual wrangling and inertia.
Houston managed to get near complete buy-in to its housing-first strategy, not just among government agencies, but non-profits and charities as well. It made deals with landlords, brought in corporate money, generated more real-time data and leveraged federal emergency funds in creative ways.
Though it won't be an exact copy, this is the kind of effort required for Edmonton to really bring its affordable and social housing needs under control.
That's why I think Knack's call to have jurisdiction transferred to the city warrants serious consideration.
After all, if full-fledged coordination and buy-in is what has to happen, the city is much better positioned to achieve it rather than having to go through the moralistic or apathetic gatekeepers at the legislature.