Analysis: B.C. has an unusual economy because it hinges so heavily on "outside money," say economists. How long can it go on?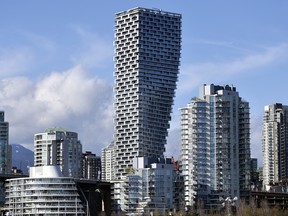 Article content
B.C.'s economy is not as healthy as it might appear, since it relies too much on housing and newcomers to keep it above water, say prominent economists and analysts.
Article content
The real estate sector makes up a much larger section of the B.C. economy than in the rest of the country. The B.C. economy is heavily reliant on large-scale flows of people arriving each year from other provinces and countries, say the specialists.
They maintain B.C. has not been effective at developing its resources, businesses and industrial capacity in a way that increases wages and improves productivity. This B.C. phenomenon, going on for two decades, puts demand pressure on housing prices.
Don Wright, former head of B.C.'s civil service, says there is a general feeling among British Columbians that the economy is healthy because unemployment is relatively low and government revenues stable.
But there is a distinct possibility the economy is not sustainable, Wright says.
Article content
B.C.'s trade deficit has been growing steadily since 2005. The province, he said, is "spending about $28 billion more per year than we are earning."
Both Wright and David Williams, senior policy analyst for the Business Council of B.C., say the provincial economy is too dependent on large-scale in-migration to bring in capital, which fuels the housing sector and props up spending on goods and services.
Last year, according to the B.C. government, the province welcomed a record 100,000 new people. About 33,000 came from other provinces, which is the highest amount in three decades. The other 67 per cent arrived from other countries, a lower proportion than normal, and most chose Metro Vancouver.
B.C. has an unusual economy because it hinges so heavily on "outside money;" on new arrivals coming in to "buy real estate and support consumption with income earned elsewhere," says Wright, an economist who gives presentations on the issue to Ottawa politicians and business organizations.
Article content
"In essence we are 'exporting' the right to reside in B.C.," Wright says.
"This has become our largest 'export industry.' It accounts for more than twice the annual level of forest industry exports. In the short run, this injection of dollars does create the impression of a healthy economy, but how long can this go on?"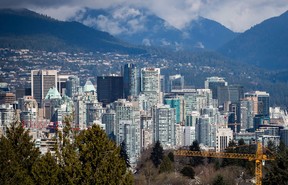 The business council's Williams generally agrees. A tremendous amount of B.C. money is going into "housing-related consumption," he says.
But investment dollars are not flowing strongly enough into such things as new machinery and equipment and intellectual property rights, said the business economist. Those sectors can much more add to the "economy's future productive capacity" and potentially increase stagnant wages.
Article content
In-migration should not be seen as a cure-all for the economic woes of Canada or B.C., says Williams.
He questions the way Canada, particularly B.C., depends on "record immigration levels to turbocharge population growth and housing demand." Canadian economists believe immigration numbers have an overall neutral effect on real wages and gross domestic product per capita.
According to Stephen Punwasi, of Better Dwelling, B.C.'s economy is almost twice as reliant as neighbouring Alberta on real estate, which accounts for 20 per cent of B.C.'s GDP.
That compares to an average of 13.5 per cent across the country, a proportion that is still much higher than in the United States. If B.C.'s construction industry is included, it adds up to almost one third of B.C.'s GDP coming from real-estate related services.
Article content
Canada, and especially B.C., are "addicted" to real estate-driven growth, says Punwasi, who maintains it's an unhealthy dependence that won't be easy to break.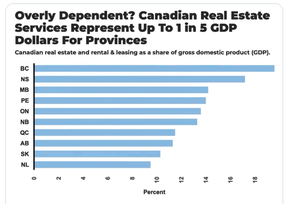 Wright, who was NDP Premier John Horgan's deputy minister until stepping down in 2020, cites the danger of over-relying on new arrivals.
When 100,000 people move into B.C. and buy houses and services "it creates the illusion that the economy is strong. But for me the question is, 'Is it sustainable?,'" Wright says.
"Let's say somebody from outside B.C. retires to Comox and buys a place. And they've accumulated a lot of net wealth over their life. Whenever they spend money, it's money that's not being earned in B.C. In the short term it's not bad for the economy, because it creates employment when somebody goes out and eats at a restaurant."
Article content
But Wright doesn't think relying on imported wealth is sustainable — for two reasons.
The first is that "you only get to sell off a piece of real estate to somebody outside the province once," he said.
"And another reason is it's not socially sustainable: Young people cannot afford a house anymore." And too many new real-estate units are not suitable for families.
"A whole generation is going to be frozen out of the housing market, unless they have a well-capitalized, generous bank of mom and dad."
What might happen to B.C. "when the party stops?" Wright asks, referring to a time when newcomers stop bringing in tens of billions of dollars each year from beyond provincial borders?
B.C., he said, will need to restructure by strengthening sectors such as forestry and mining, manufacturing and high tech — all of which are capable of producing superior middle-class wages.
"We better know," Wright says, "how to rebuild the standard of living of the next generation."
Douglas Todd: Why Canadian wages never seem to go up

Douglas Todd: People are moving from other provinces to B.C., but avoiding Metro Vancouver

Douglas Todd: People are now moving to B.C. from other provinces, but they're avoiding Metro